2-Stage Regenerative Blowers
Like all of our regenerative blowers, Becker's 2-stage blowers are 100% oil-less, quiet and compact. They also offer:
High performance
Integrated inlet filter (7 & 8 series)
Integrated vacuum or pressure relief valve (7 & 8 series)
Our contact-less 2-stage regenerative blowers require minimal maintenance and can be converted to 1-stage operation.
Variair VFD models are also available for precise pressure control. Lower HP motors are also an option for applications requiring less capacity or pressure.
Contact the factory or your local Becker dealer now for help with selecting the best regenerative blowers to fulfill your requirements.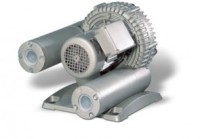 Model
CFM
Open Flow
Max. Vac.
HP/kW
SV 5.90/2
29
102 In. Wg
0.6/.44
SV 8.130/2
44
140 In. Wg
1.2/0.9
SV 8.160/2
56
130 In. Wg
2.0/1.5
SV 200/2
64
173 In. Wg
2.4/1.8
SV 201/2
64
161 In. Wg
2.4/1.8
SV 300/2
111
181 In. Wg
4.8/3.6
SV 400/2
149
181 In. Wg
6.4/4.8
SV 5.690/2
256
181 In. Wg
12.1/9.0