Split case pumps
By optimizing the shape of impeller and pump casing, the velocity losses are reduced to an absolute minimum. The pumps are maintenance friendly as the upper-half can be removed without dismantling pipe joints and driver, and without disturbing the alignment.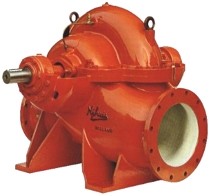 Horizontal version
Applications:
water supply
cooling water
air conditioning
shipbuilding
irrigation
drainage
Capacity:
90 - 13.000 m³/h
Heads:
5 - 200 mlc
Liquids:
fresh water, cooling water, air conditioning,
shipbuilding, seawater or equivalents.
Vertical version