Agitators / dynamic mixers with submersed motors

For homogenisation, suspension, horizontal flow generation and other mixing and flushing duties in municipal and industrial wastewater treatment, industrial processing, marine, mud mixing, agriculture and many others.
The robust design guarantees long-life trouble-free operation even under most demanding conditions. The hydraulically optimized design of all propellers, transmission and motor drive results in outstanding efficiencies and excellent mixing performance with minimum flow losses. A solid, flexible and easy handling installation system allows an optimum and individual positioning of the mixer combined with easy installation and maintenance.
Agitators / dynamic mixers with dry mounted motors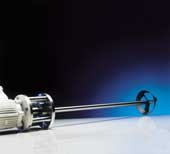 Robust and stable
Delivery from stock
Modular systems or assembled packages
Simply modified for custom-made applications
Suitable for every industrial application
VNF Series
Shaft speeds between 750 and 1800 rpm.
All electric motors, constructed to the IEC code.
VSM Series
Shaft speeds between 750 and 1800 rpm
This type of agitator uses a special electric motor with a hollow shaft.
VWM Series
Shaft speeds between 30 and 200 rpm
This type of mixer is driven through a worm gear and is an excellent selection when mixable products require blending with great care and intensity.
VPM Series
Shaft speeds between 120 and 1800 rpm
This type of agitator is driven through a gearbox
Working principle of dynamic mixers